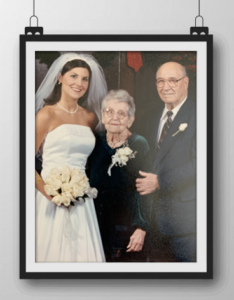 My grandmother contracted Polio in 1916 at the age of two. She remained crippled the rest of her life. She often got left behind or left out completely because of her handicap. Several times in my life when epidemics or natural disasters have occurred, I have thought about her. I have thought about how scary it must have been for her family. Not knowing if she would live or how she would live – what the quality of her life would look like. 
I always end my thought with the reminder that … SHE SURVIVED! She lived a long and wonderful life. She was married for 66 years, gave birth to three healthy and wonderful children who grew up to be even better adults. She lived to know 4 grandchildren and 3 great-children. She played the piano beautifully and spent 91 years on this earth. Not only did she survive – She lived!
These are scary times – uncharted waters for us. Some of us have lived through other tragic events – hurricanes, tornadoes, earthquakes, terrorist attacks, wars and the panic that the world would end when the year 2000 came. This is many ways feels a bit different for me. The talks of quarantine and isolation, life as we know it shutting down – that feels different. In other times of panic, we have come together and helped each other – risen to the occasion. We have gathered with each other and held hands. This time, we are being forced apart. Disconnecting and fending for ourselves. Denying touch.
I try to look for the lesson in times like these. What is this here to teach us? Here are two things the Coronavirus is here to teach me – Live for Today and Human Connection is Important.
As I watched sports events get canceled all over the world, I thought about the athletes. I could hear some of their voices: "this isn't fair", "I worked so hard for this season", "this next game was my chance". Yes, all of these statements are true. But the lesson here is quit waiting on the next chance, the next game. Max out on this one. I guarantee you there are students wasting their freshmen year because they can't wait to be a senior. And wasting their senior year because they can't wait to be an adult. There are athletes disregarding this game because they can't wait to play in that one. What happens when "that one" doesn't come? Live for today – for this moment – for this game. The harsh reality is life often isn't fair. If nothing else, Coronavirus has taught us that. There are situations in life that aren't fair, but they are out of our control. The only saving grace is that we have ability every single day to max out the opportunities in front of us – the life we get to live today – no matter the handicap.
In every speech I give, I talk about data – and how I don't like it. We place such importance on data that we forget about the human beings behind it. We are people – not numbers. People need connection. My hope is that forcing us to disconnect will allow us to re-connect in a deeper, more genuine way. I hope we miss each other and we crave to be connected. We crave hugs and smiles and conversations – rather than text messages, likes and fist-bumps. I hope we come back stronger than ever and we crave real relationships and real intimacy, rather than fake ones fueled by false attention and a computer screen.
As challenging as these times are, we are here to grow and learn from them. We are here to remember not only to survive – but to LIVE!